Trusted by over 40,000 customers worldwide

Tenant-to-tenant Microsoft 365 migration 
Whether you're facing upcoming mergers and acquisitions or simply consolidating domains, CloudM can migrate email, contacts, calendars, chats, files and Teams from one Microsoft 365 tenant to another.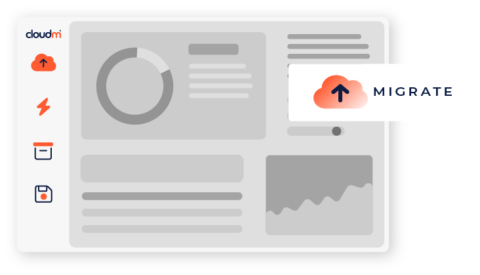 Common tenant-to-tenant scenarios
Consolidation and Tenant Refreshes

Divestitures and Spin-Offs
Organizations may need to consolidate their Microsoft 365 environments when merging with or acquiring a new company. A tenant-to-tenant migration allows for the transfer of mailboxes, files, user accounts, SharePoint sites, Teams and other data from one tenant to another, ensuring a unified Microsoft 365 environment.

Tenant-to-tenant migrations often occur when an organization chooses to consolidate multiple Microsoft 365 tenants into a single one. This could be due to organizational restructuring, cost optimization or simplifying IT management. Another common reason may be to move to an updated version of Microsoft 365 to benefit from new features and functionality. 

Tenant-to-tenant migrations are regularly performed when an organization divests or creates a spin-off into a new entity. This enables the newly formed company to have its independent Microsoft 365 environment with all the relevant information.
Workloads migratedm by CloudM Migrate

Mail Migrations
Seamlessly move emails and attachments. CloudM enables you to take your contacts and calendars across, maintaining any tasks, reminders or recurrences you may have.

File Migrations
Migrate OneDrive files directly into Microsoft 365. Find your files and folders, including folder hierarchies and any access control lists you may have in place, fully replicated in OneDrive for Business.

Teams Migrations
Retain all valuable data from Teams. Migrate conversations, users, settings, channels and tabs. Plus data from Planner, OneNote rehydrated private chats, mail, calendar, files and document metadata.

Archive Migrations
Migrate online archive data to Microsoft 365. Migrate your archived emails directly to another archive or mailbox without any manual exports. Move everything you need using search terms and data ranges.
CloudM Migrate Key Features
15+ source platforms supported

Flexible migration options
Unique environment scan, performing analysis of your source environment and reporting key statistics such as item counts, data volume, permissions and folder depth.

Access in depth audit, migration trace and migration service logs to help quickly diagnose issues and errors. Remotely connect to secondary servers directly from CloudM to quickly resolve errors.

Use Powershell scripts to control access and automate processes, making it easy to quickly change configurations during your tenant to tenant migration.

Speed up your migrations by using multiple servers with CloudM. Adding more secondary servers allows more item threads to be migrated simultaneously.

Covering emails, calendars, files and archives, the CloudM migration tool moves data from over 15 different source platforms.

Choose from the SaaS version of CloudM, or download a self-hosted version to maintain the data in your own environment.
Getting Started
Interested in migrating data to Microsoft 365? Schedule a demo with our migration specialists.