Blog
How our Email Signature Management tool makes life easier
How our Email Signature Management tool makes life easier
Email signatures can be a pain. They're difficult to edit, usually out of date, and everyone in the company wants to make their own. But an email signature is like a uniform for your company; every employee's should be the same and look smart, which is why it's important to get it right.
A consistent, up-to-date email signature not only gives easy access to contact information and social media links, but is the final impression that you make with your partners and customers, demonstrating your company's professionalism, skill, and branding.
Here's the good news. Our award-winning Email Signature Management tool has just had an update, making it even easier to keep email signatures uniform across the business, automatically updating new or existing employees, and gives people control without having to raise a ticket with the IT department.
And it's all controlled from a single pane of glass.
Delegated Management
This is the foundation of our Email Signature Management module. Through our tool, you can designate access and roles to different departments and people. This gives them the ability to edit and personalize signatures themselves, without having to raise a ticket with IT.
Access is strictly limited, so different users or departments can only change what's needed rather than have full control of the system. So if the Head of Marketing needs to change the company logo within the signature, it's a simple job. There's no need to involve any other department, put a request into a third party, or even bother an IT admin.
Signatures assigned automatically
Once every department has its own email signature set up, then it's easy to add new people to that group. When it comes to joiners, an email signature is automatically assigned as part of their onboarding process with their unique details, including name, title, and contact information.
If someone moves departments, the change will automatically trigger a shift to the correct user group, and their details will be updated in an instant. No more out-of-date contact details or job titles.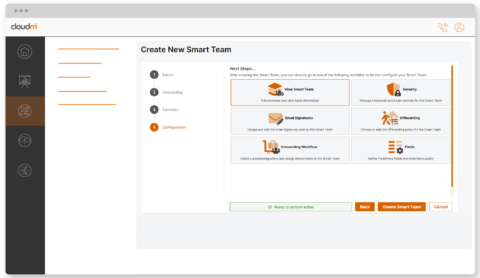 Template gallery
We're always improving our platform, and with our new template library, not only do you have a selection of clean, professional email signature templates ready to go, but you can also build your own collection for your bespoke needs.
This means you don't have to start from scratch every time you create a new campaign or a new signature, simply use the library to build upon what you have, or tweak an existing template to suit your needs.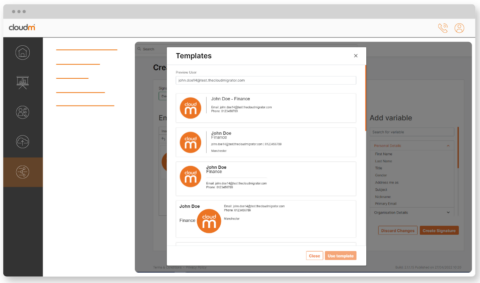 Campaign scheduling
Email signatures are a powerful branding tool, and our new feature lets you schedule a calendar of email signatures in advance, allowing you to set up campaigns months ahead of time and make sure your message is always spot on.
Scheduling also means you can have bespoke campaigns for different departments, teams, and roles, all prepared in advance and published when you want them, giving you multiple, concurrent campaigns without the headache.
Tailored to both Google and Microsoft
No matter what platform you're using across the digital workplace, our tool allows you to free up your IT admin team, get new starters up and running, and rest easy knowing your brand is unified across the company.
We've created an email signature management solution for Google Workspace and Microsoft 365 that is easy to set-up, works across desktop and mobile, and simplifies everything.
How it can make life easier
A recent client of CloudM is based in Quebec, and so conducts business in both English and French.
By using our dynamic groups to power their Email Signature Management module, they can tag their users based on their native language.
Anyone tagged as French-speaking has their email signature in French. Anyone tagged as English-speaking, has theirs in English. It all happens when the user is created, with no further management required. Simple, easy, and effective!
Campaign scheduling also makes life easier for busy teams. If, for example, you want to change everyone's sign-off to a Christmas message on December 1st, but then schedule it to New Year's wishes on January 1st, you can set it all up ahead of time with no manual publishing required.
Scheduling allows you to change images, messages, and banners without the need for someone to log in during their holidays, and it can be unique to each department in the company.
Let CloudM handle your email signatures
CloudM has been helping companies around the world manage their email signatures for years, but with the recent updates and new features, we're bringing automation to another level.
Unify your company's sign-off to partners, clients, and customers, look professional, and provide all the pertinent information you need to give – and do it all automatically.
Set it up once and off you go. If only everything in life was as easy as our Email Signature Management tool.
Interested in managing your email signatures with CloudM?
If you would like to know more about our powerful email signature tool, then please don't hesitate to contact us today,