More control and improved insight with the CloudM November product release

On November 15th, we released a number of new features and improvements to the CloudM platform. These provide users with more insights into the health of their projects and systems as well as give them more control and flexibility when it comes to managing data in Google Workspace and Microsoft 365.
CloudM Backup 1.3: New backup storage option, new offboarding step and improved insights
With the latest Backup 1.3 release, users can now choose to backup their data to AWS as an alternative to Google storage for improved data governance. New audit logs and stats placed prominently within the module give your further insight and control over your systems.
In addition, admins will be better positioned to troubleshoot when things go wrong: should delta backups fail more than 5 times in a row, further delta backups will be put on hold and the status set to "Requires Action". Users can filter by status, dive into details to understand why the failure occurred and resume the backup once resolved. 
Lastly, a new "Purge Backup" step in our offboarding workflow is particularly useful for customers who use Backup and Archive: leavers data will be moved into Archive while backups will be purged after a customisable period of contingency. Since Archive storage is typically cheaper, this functionality can significantly reduce storage costs.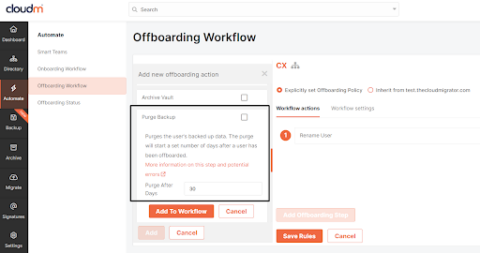 CloudM Archive 2.0: More storage regions, new audit logs and better UI
Archive 2.0 is also seeing feature updates that give you more control and insight, such as an expansion of storage regions and a new audit log for user views of the "Restore" section for regulatory, compliance and internal investigative purposes. 
We've also made some improvements to the UI so that Archive phases can be better distinguished.

CloudM Automate 2.9.0:  New offboarding step, better visibility of performance and quicker email signature syncs
For customers using our onboarding workflows to reduce the need for manual interference and free up IT admin time, we're introducing an additional offboarding step that automatically assigns a Google Workspace license to historic users, so that further steps that require a license such as Archive, Migrate Mail and Transfer Ownership can be completed without intervention. As historic users typically still have Google Archive User (AU) or Cloud Identity licenses assigned, offboarding these users can result in significant savings.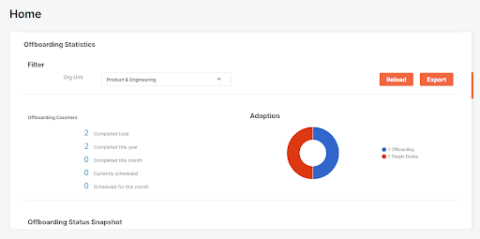 In addition to the new onboarding step, we have also added your offboarding and Archive statistics to the dashboard for better visibility. Lastly, we've made manual email signature syncs quicker as they can now be pushed through at Smart Team level rather than the organizational unit (OU).
CloudM Migrate 3.42:  Google Takeout support, seamless migrations
Migrate already has a host of source platforms and we have now added Google Takeout into the mix. To continue the theme of more insight kicked off with our Backup and Archive modules, environment scan now allows you to access historical results. This is particularly useful when making use of another feature we recently added, allowing failed users in environment scans to be re-run. You will now be able to easily access both the original results as well as the retried users.
Note: there is an important update with specific instructions for customers with secondary servers. Find out more here.
For migrations from/to Google Workspace
Making migrations as seamless as possible for end users and admins alike has always been one of our goals, and the 3.42 release adds a few small yet important features to achieve just that: with this release, you will be able to migrate the last 10 messages from your Google Spaces to the new destination so that users can continue working without disruption. 
And good news for those looking to migrate from Google Vault – we have significantly improved throughput speeds and migrations speeds by up to 50%!
For migrations from/to Microsoft 365
Another feature that ensures a smooth experience for end users allows account delegates to be migrated in Microsoft 365 tenant to tenant scenarios. In addition, mail delegation settings can now also be migrated over in M365 to M365 migrations.
Read the full release notes here.