Blog
Tenant to Tenant migrations - why they're best left to professionals
Tenant-to-tenant migrations
As the great migration from physical servers to the Cloud continues, tenant-to-tenant migrations are fast becoming the most common type of migration performed. In this post, we break down how to prepare for them, and what it takes for a successful migration.
Tenant to tenant migrations are typically required when a company has rebranded, an organization is subject to divestiture, a merger and acquisition has taken place or an organization is looking to move to the cloud. Here's some steps to help you prepare for a tenant-to-tenant migration.
How to prepare for a tenant-to-tenant migration
During a tenant-to-tenant migration, both parties might be using Microsoft, however, there are still a large number of technical components to the project. Any migration brings pitfalls and challenges, which is why the most important part is planning. Knowing exactly what you're doing, how you're going to do it, and when to do it is essential for a successful tenant-to-tenant migration.Here are a few tips to get you started.
Know where your data is coming from
The first thing to do is perform an extensive discovery of the source tenant and data usage. Take note of things such as:
What workloads and M365 licenses are in use?
How many of each workload type are in scope of migration e.g. User mailboxes, SharePoint document libraries, Teams etc.
Is there any legal hold or archived data that needs to be migrated?
Are there any workflows that are critical to the business to be mindful of?
What external sharing is required post-migration (if any)?
Understand what additional projects are scheduled that may impact the migration of data.
Set boundaries and expectations
Before a tenant-to-tenant migration begins, everyone needs to be on the same page. It's important to understand what is and is not possible during the process, where priorities lie, and who is responsible for what.
Agree on what project metrics are important. Is it the speed of the migration or the user experience that will define project success?
Understand which data can and cannot be migrated using available tools e.g. CloudM Migrate
Understand the cost, time, and effort required to complete the migration in agreed timeframes
Design the migration approach with business stakeholder buy-in. Will you perform a phased or 'big-bang' cutover?
Build-in project time to perform a Pilot phase to ensure the migration approach and experience is as expected
Think about the user experience and plan communications accordingly.
Prepare the destination tenant
Where your data is going to is the final piece of the puzzle. Make sure your destination is prepared for the new data arriving.
Provision of necessary destination objects and associated licenses
Compare policy settings (e.g. retention policies) and plan accordingly
Check for user name conflicts or similar Teams/SharePoint sites and decide to merge or keep the data separate
Plan for contingency. Migrations are complex, make sure additional time is added to timelines for unexpected events and clean-up at the end of the migration.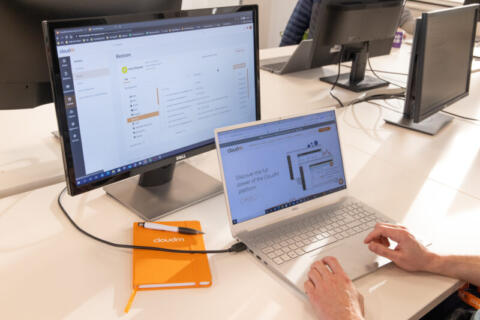 Tenant-to-tenant migrations are a specialized area
Tenant-to-tenant migrations bring with them their own unique challenges and solutions.
Even though the migration is from Microsoft to Microsoft, it's still a technical feat and you need a tried-and-tested third party tool to make it happen. CloudM has performed over 70 million migrations with an astonishing 99.8% success rate. We work with huge brands like Netflix, Spotify and Uber, and we're proud to be a Gold Microsoft Partner.
Alongside our powerful tool, we can also provide a Managed Migration Service which takes the stress out of the project. Our team of migration experts can take control of the project and perform the migration for you, handling everything so you don't have to.
If you sign up for a Managed migration, you are assigned a project manager that will constantly keep you up to date with everything, reporting back regularly so you never have to ask how things are going. All our clients are also assigned a deployment specialist – a migration expert that can fix issues before they become a problem. Being able to spot a bump in the road ahead of time means it can be resolved before you are even aware there was anything to worry about.
Don't take risks with your data. Tenant-to-tenant migrations are our domain. Let us handle it for you.