Blog
The Secret to the Perfect Digital Workplace
Is there a secret to building the perfect digital workplace? Well, perfection doesn't happen by accident.
The very first digital workplace came somewhere around the mid to late 90s. That's less than 30 years ago; not long at all. While the growth of the digital workplace has been gradually happening since then, it was only after two years of a pandemic with sporadic lockdowns that the world has truly embraced the power of digital workplaces. But now many are left asking: how can I achieve digital perfection? And how can I create the perfect digital workplace? Well, the answer is more straightforward than you might think.
Whether it's Microsoft 365 or Google Workplace, let's look at how you can perfect your digital workplace and transform the experience of your day-to-day end-users.
What does perfection look like for your organization?
The difficult thing with perfection is that it's subjective and there is no one size fits all solution, because every organization is unique and comes with its own challenges. But in order to reach the highest standard of digital transformation, first, there are a few things you must know about your organization, its end-users, and its decision-makers.
Depending on your organization, its infrastructure, and the priorities of your decision-makers and end-users, you need to choose the right productivity suite. Both Google Workspace and Microsoft 365 are groundbreaking, but depending on your business, one may be more suited than the other. Assess and discuss, at all levels of the business, which productivity suite would be most suited to your needs. If you're looking to embrace the power of collaboration and productivity across files, folders and calendars, Google Workspace might be your preferred platform, whereas if you're searching for a way to keep your business secure and connected in a totally bespoke setup, Microsoft 365 might be your platform of choice. Evaluate if you're striving for individual productivity and efficiency or a collaborative space.
It's important to remember that your technology stack goes well beyond your foundational platform choice. In the digital space, there is no such thing as perfection without your key office SaaS working together. Embracing your wider SaaS subscriptions means you can tailor your digital workplace to your bespoke needs, which is why CloudM's technology integrates the most popular SaaS apps with your primary digital workplace. CloudM integrates with office favorites, such as BambooHR, Box, Dropbox, and Slack, so your organization can truly make the most of your digital workplace.
When you're thinking about reaching for perfection for your digital workplace, look at your ambitions as an IT team and as an organisation. Perfection looks different to everyone. So, what does perfection look like to you?
How can you use automation technology to step into the future?
Automation means menial tasks that would otherwise be done manually are taken care of in an instant without wasting time. As technological possibilities continue to expand and become even more accessible, it's important to embrace them to save time and money and increase productivity for your organization.
CloudM offers cutting-edge automation as part of its impressive range of digital workplace tools. Our powerful automation features mean that your business can automate tedious administrative and IT Tasks so that your team can tackle ambitious new challenges and projects, allowing for further growth, productivity, and efficiency.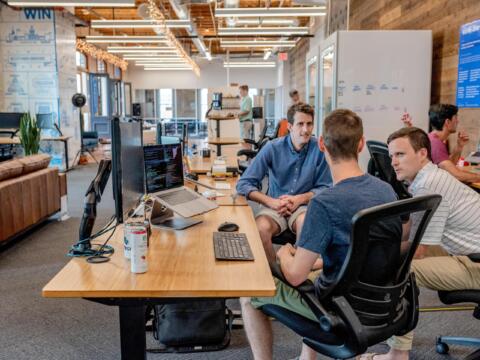 What is the secret, and what are your next steps?
Is there a secret to getting the perfect digital workplace? Well, perfection doesn't happen by accident. Perfection starts with an idea, which is developed, sanded down, and polished. CloudM has worked for many years, bringing forward industry-firsts, and developing innovative technology.
The secret to digital workplace perfection is this: Automation will streamline your business, increase productivity, and elevate efficiency. Automation fosters ambition and gives people the valuable currency of time, which is a rare commodity in our busy, fast-paced world.
What do our customers have to say?
"I built CloudM into our employee onboarding and offboarding processes. We were doing everything manually before, becoming bottlenecks, and running out of time. Now everything happens with just one click of a button. For offboarding, it archives the emails, it changes passwords, removes access, then deletes the user. I must have used it for 200 – 300 people since I joined, which at 45 minutes per person would have taken me a full month of solid work. With CloudM it's seconds per person."
– Hassan Mansoor, Head of Infrastructure at Dennis Publishing
"You can see this is a product that CloudM is serious about developing and they're adding great features to it all the time. They're really focused on customer feedback and coupled with their own knowledge you have a product which is full of useful and relevant functionality, unlike some of the other products in the market."
Paul Bamber, Head of I.T. at Bruntwood.
"This is now all fully automated, in a few simple steps an employee is offboarded from Google Workspace and we know our company data is safe. There's no manual intervention from me, a huge improvement to how we worked in Microsoft 365."
Representative from Noberasco
Digital perfection doesn't have to be a pipe dream. If you want to streamline your digital workplace, maximize your efficiency, and kick start your end-user's productivity, get in touch today.